[Watch] War of words: leaders bicker ahead of NATO summit
Comments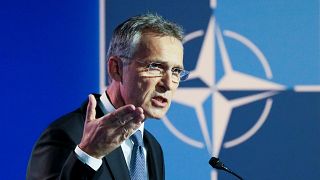 Today on Good Morning Europe...
The NATO summit gets underway and the alliance's leaders are already making the headlines.
Air Force One had not yet touched down in Brussels when US President Donald Trump took to Twitter to take a swipe at the European Union and his NATO allies.
EU Council President Donald Tusk responded with a stinging rebuke, setting the stage for what are expected to be fractious talks.
Evelyn Laverick has that story.

Our correspondent Bryan Carter is following events closely from Brussels. He gives us an idea of what to expect in the coming days.

And The Cube takes a look at the war of words on social media.

Across the pond... NBC correspondent Hans Nicholls reports from the White House.
Good Morning Europe airs every weekday from 7am CET.