EU rebukes Trump over attitude to allies
Comments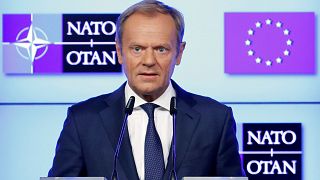 On the eve of a NATO summit in Brussels, European Council President Donald Tusk has rebuked the U.S president for his attitude towards its allies. Donald Trump has repeatedly criticised some NATO countries for not spending enough on defence, claiming the U.S. shoulders the burden.
"Dear America, appreciate your allies, after all, you don't have that many. And Europe spends more on your defence because everyone respects an ally that is well prepared and equipped. Money is important but generally, solidarity is more important. Speaking about solidarity I want to dispel the American president's argument which says that the U.S. alone protects Europe against its enemies and that the U.S. is almost alone in this struggle. Europe was first to respond on a large scale when the U.S. was attacked and called for solidarity after 9/11."
After he leaves the NATO summit on Wednesday, President Trump is to spend four days in the UK before going on to a meeting with Russia's Vladimir Putin in Helsinki on Monday.