Meet the MEPs who earn €100,000-a-year or more from second jobs
Comments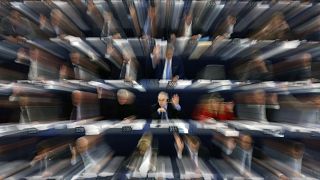 Ten MEPs raked in more than €100,000-a-year on average from second jobs and outside earnings, a new report has claimed.
Transparency International, the authors of the study, claim the practice creates conflicts of interest and prevents elected representatives from devoting sufficient time to serving their constituents.
MEPs already receive a pre-tax annual salary of €101,808, a lump sum of €52,992 and a host of other benefits.
It means that the 10 MEPs who earn more than €100,000-a-year on average from outside interests have total earnings of €250,000 or higher, according to Euronews analysis of data collected for the study.
The highest-earner from outside activities since 2014 was Italian MEP Renato Soru, founder of the internet service company Tiscali.
He has earnt at least €386,875-a-year on average since 2014, pushing his total annual income beyond half-a-million euros.
Belgian MEP Guy Verhofstadt, the European Parliament's Brexit co-ordinator, is third on our list with outside earnings of at least €230,154-a-year.
Nigel Farage, who has moved to do more media work since successfully campaigning for Brexit two years ago, has raked in €147,512-a-year on average over the last four years.
"Outside incomes can potentially be used to channel payments to members in return for insider information or legislative action," said Transparency International in its report.
"They can also be used for illicit campaign or party funding.
"In 2011, three MEPs were caught by undercover journalists accepting payments to table amendments."
The watchdog said since this scandal the practice of second jobs or moonlighting had been regulated.
But, despite a code of conduct being introduced, oversight of it has been weak, said Transparency International.
There is also concern about handing MEPs a lump sum to cover general expenses without having to justify how it is spent.
A group of investigative journalists launched a bid to try and get the European Parliament to reveal what MEPs were spending their expenses on.