'Appreciate your allies, you don't have many,' Tusk tells Trump
Comments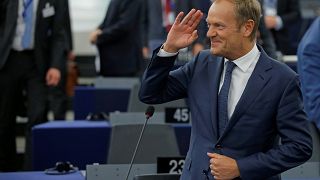 Donald Trump has been told to stop berating European countries over how much they spend on their militaries.
The US President frequently complains that Washington pays too much into the North Atlantic Treaty Organization (NATO), a military alliance between a host of European countries, the US and Canada.
Now Donald Tusk, president of the European Council, has hit back at Trump on the eve of a NATO summit in Brussels.
"Dear America, appreciate your allies, you don't have that many," Tusk said after signing a statement on co-operation between the EU and NATO.