British PM May is on even thinner ice after Brexit resignations
Comments
By Alastair Jamieson with NBC News World News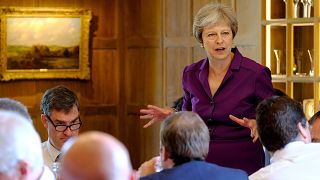 -
LONDON — President Donald Trump will meet British Prime Minister Theresa May on Thursday — that is, if she can survive the worst political crisis so far on the U.K.'s bumpy road to Brexit.
Two of her most senior ministers in charge of negotiating the country's exit from the European Union quit overnight — barely three days after May claimed she had finally united her squabbling government behind a strategy on the issue.
The midnight resignations of Brexit Secretary David Davis and junior Brexit minister Steve Baker triggered another round of open warfare within her ruling Conservatives, with some party colleagues calling for May to be replaced Monday.
"Theresa May's premiership is over," Conservative lawmaker Andrea Jenkyns told the BBC.
"It's all just falling apart again."
The fiasco comes four days before Trump arrives in London where he is also expected to meet Queen Elizabeth II before heading to his golf resort in Scotland and then to Helsinki where he will meet Russian President Vladimir Putin.
May moved quickly to pre-empt any rebellion Monday by quickly announcing that pro-Brexit Dominic Raab, who formerly served as her housing minister, would replace Davis at the helm of talks with the bloc.
Davis had been a pro-Brexit voice in a government divided between supporters of a clean break with the E.U. and those who want to keep close customs ties with Britain's biggest trading partner.
His departure could embolden Brexit-supporting Conservative lawmakers — who have long considered May too prone to compromise — to challenge her leadership.
May had been due to brief lawmakers Monday about her Brexit plan, which was agreed after a 12-hour meeting on Friday. Instead, she faces a meeting at 6:45 p.m. local time (1:45 p.m. ET) in which she will hear demands to change the blueprint or stand aside.
The proposal seeks to keep the U.K. and the E.U. in a free-trade zone for goods, and commits Britain to maintaining the same rules as the bloc for goods and agricultural products.
Among the lawmakers unhappy at that idea is Foreign Secretary Boris Johnson.
"It's all just falling apart again," said May's former adviser, Joey Jones — a remarkable assessment given that only 263 days remain until Britain leaves the bloc. The E.U. has repeatedly warned Britain that time is running out to seal a divorce deal before March 29, 2019.
In his resignation letter, Davis said May's policy is "weak" and predicted it would "lead to further demands for concessions" from the E.U.
"Of course, this is a complex area of judgment and it is possible that you are right and I am wrong," he wrote, underscoring the extent of confusion and enmity among senior officials.
Andrew Bridgen, another pro-Brexit lawmaker in May's party, said her future would likely be decided at Monday's meeting.
There would be no vote of confidence in her leadership, he said, provided she changed her plan.
"What she needs to do is give up on her proposals," he said. "There will be a robust exchange of views and my colleagues will make a decision then as to whether they will support the prime minister."
A leadership challenge can be triggered if 15 percent of Conservative lawmakers demand it in a letter.
Robert Peston, political editor of NBC's partner ITV News, reported that some had already done so.
Conservatives currently have 316 members of parliament, so 48 would need to join the rebellion.
However, it is far from obvious who would replace May and any successor would face the same political problems.
May's health minister, Jeremy Hunt, called for unity, saying: "It's now or never."
Davis himself also avoided twisting the knife, describing May as a "good prime minister."
The opposition Labour Party's Brexit spokesman, Keir Starmer, said the overnight resignations were a "huge blow to the prime minister and an effective vote of no confidence. It exposes the division at the heart of the Cabinet that has been the problem for months."