Over 100 killed in Japan's floods, dozens missing
Comments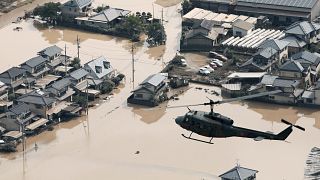 Rescuers in Japan dug through mud and rubble on Monday, racing to find survivors after torrential rain unleashed floods and landslides that killed at least 112 people, with dozens missing.
Record amounts of rain have hit western Japan since Thursday and rivers have burst their banks and two million people have been ordered to evacuate.
Prime minister Shinzo Abe has cancelled an overseas trip to deal what is the worst floods in Japan for thirty five years.
Around 11,200 households had no electricity, power companies said on Monday, while hundreds of thousands had no water.
The persistent rain has ended but officials are warning of sudden showers and thunderstorms as well as the danger of more landslides on steep mountainsides.
Since Japan is densely populated every bit of usable land is built on in what is a mostly mountainous country, leaving it prone to disasters.