Wimbledon accuses Saudi Arabia of complicity in 'industrial-scale piracy'
Comments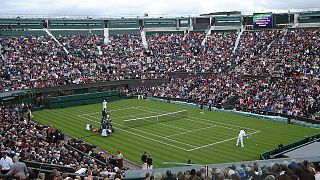 Saudi Arabia has denied allegations by the governing bodies of world tennis that a television channel illegally showing matches is based in the kingdom.
The International Tennis Federation, Association of Tennis Professionals (ATP) and other bodies on Saturday called for the "immediate closure of the illegal Saudi Arabian-based piracy operation, 'beoutQ'", for broadcasting tennis content across the Middle East and North Africa without the right to do so.
The statement said that such "industrial-scale illegal piracy" risked damaging the value of broadcasting rights which help fund the sport.
It was issued on the website of the Wimbledon grand slam tournament currently taking place in London, and followed similar complaints from world soccer body FIFA, European soccer body UEFA and Formula One. It said Saudi Arabia had "relentlessly" combated beoutQ's activities in the kingdom, and reiterated its commitment to protecting intellectual property rights.
Saudi Arabia has denied that beoutQ is based in the kingdom, and said that authorities are working to prevent beoutQ's activities there.
beIN Sports is an off-shoot of the Al-Jazeera Media Network, and as such, is blocked in Saudi Arabia under a trade and diplomatic boycott imposed on Qatar a year ago. Saudi Arabia's media ministry responded to the claim, "Wimbledon's press release baselessly claims that beoutQ is based in Saudi Arabia and suggests that Saudi Arabia is somehow complicit in beoutQ's broadcasts,"
Saudi Arabia's ministry said "the government of Saudi Arabia is and will remain devoted to protecting IP rights within the country." It noted that the Saudi Ministry of Commerce has seized thousands of set-top boxes that would otherwise be used to violate intellectual property (IP) in the country.
The ministry said, "Al-Jazeera's response to the ban has been to escalate a political campaign against Saudi Arabia. It has used beIN Sports' 2018 FIFA World Cup broadcasts to defame the Kingdom, the Saudi Arabian football federation, and national team.We are disappointed that representatives of credible tennis associations are being used in the Wimbledon press release as mouthpieces by Al Jazeera, said the Ministry of Media."
The allegations echo complaints last month from footballing bodies FIFA and UEFA who threatened to take action against beoutQ, which has broadcast every match of the World Cup so far despite not owning the rights to do so.
Global sports network beIN Sports holds the rights to broadcast major tennis tournaments and other sport events including the soccer World Cup in the Middle East and North Africa.
BeoutQ could not be reached for comment. It is unclear who owns or operates the channel.