At least three people hurt in Pamplona bull run
Comments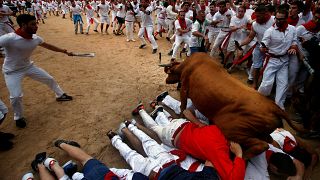 At least three people have been injured at the traditional running of the bulls festival in Pamplona, Spain, with at least one man gored by a bull's horns.
Among those receiving medical treatment was a 20-year-old Canadian man with mild traumatic injuries, the officials from the Navarra regional government said.
The other men are of Spanish nationality and include a 38-year-old who was gored and a 40-year-old who sustained serious traumatic injuries.
A Red Cross spokesman, José Aldaba, said the injured were taken to a nearby hospital just minutes after the race in the northern Spanish city began early on Saturday.
Rain before the race left the narrow cobbled streets more slippery than usual, and many runners could be seen being trampled while corralling the animals into Pamplona's bullring, completing the 850-metre course in just over two minutes.