Terror group al-Shabaab bans single-use plastic bags
Comments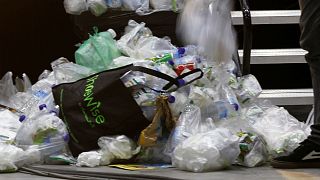 Copyright

REUTERS/Feline Lim
The al-Qaeda-linked al-Shabaab terror group in East Africa has banned single-use plastic bags in the areas it controls in Somalia out of respect for the environment, the group has announced.
Al-Shabaab's governor in Somalia's Jubaland region, Mohammad Abu Abdullah, said plastic bags "pose a serious threat to the well-being of humans and animals alike."
The statement was aired by outlets affiliated with the group, including Radio Andalus and Somalimemo.net, a website believed to be run by al-Shabaab's media office.
No details were given on how the ban will be implemented.
Al-Shabaab is normally better known for its violence than its environmental commitments. The Islamist group, which began an insurgency in Somalia a decade ago, claimed responsibility for the 2013 Westgate shopping mall attack in Nairobi that killed 67 people, among other deadly incidents.