Syrian regime re-takes southern Deraa province from rebels
Comments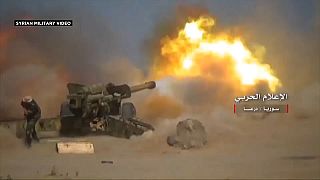 Rebels in Southern Syria agree to give up their arms in a Russian-brokered ceasefire deal on Friday, rebel sources said, surrendering Deraa province to the government.
It's another major victory for President Bashar al-Assad who has been aided by his Russian allies and their massive aerial bombardments of rebel positions.
The Syrian government recovered the crucial Nassib border crossing with Jordan, held by rebels for three years, state media reported although no mention of the agreement was made.
Rebel sources said Russia would guarantee the safe return of civilians who fled the government offensive in the biggest single exodus of the war, with 320,000 people uprooted.
Seven years into the war which has killed hundreds of thousands of people, Assad now commands most of Syria with his allies' help, though most of the north and a chunk of the east
remain out of his hands.  The presence of Turkish and U.S. forces in those areas will complicate further gains.
As Assad seeks military victory, there seems little hope of a negotiated peace, with some six million Syrians abroad as refugees and 6.5 million more internally displaced.
Russia has been at the forefront of the Deraa campaign, both bombing and negotiating with rebels who were told at the start of the offensive to expect no help from the United States.
Assad's next target in the southwest appears to be rebel-held areas of Quneitra province at the frontier with the Israeli-occupied Golan Heights, where fighting between insurgents and the government escalated on Friday.
Israel said it had targeted a Syrian army post that shelled a frontier "buffer zone" in the Golan area.
Government advances in Deraa in an offensive since mid June had brought large parts of the province back under state control and caused a massive human exodus as hundreds of thousands of people fled.
Taking back the Nassib crossing paves the way for Assad to reopen a major trade artery vital to his hopes of reviving the Syrian economy and starting to rebuild government-held areas.
Rebel sources said the deal brokered by Russia would allow civilians to return to their villages and towns with Russia guaranteeing their protection.
Russian guarantees will also be extended to rebel fighters who wish to "settle their status" with the government - a process by which former insurgents accept to live under state rule again, the sources said.
Rebels who did not wish to come back under Assad's rule would leave for the insurgent stronghold in northwest Syria, they said.
It echoes the terms of previous opposition surrenders, but according to rebel sources, they also secured a concession that some government forces would withdraw from the area.
Russian military police would deploy instead with local forces overseen by Russia also deployed, they said.
The deal is to be rolled out across rebel-held areas of Deraa in phases, but there is no timeline as yet, said Abu Shaima, spokesman for an operations room for rebels under the Free Syrian Army banner.