As it happened this morning: Friday, July 6
Comments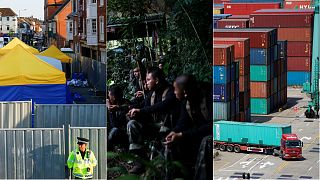 Today we were watching:
Novichok: Britain has called on Russia to provide details about the nerve agent attack on a former double agent and his daughter after two British citizens were struck down with the same poison after handling what police called a "contaminated item" near the site of the incident in March.
Cave rescuer death: A Thai rescuer has died during an operation to save 12 boys and their football coach trapped inside a flooded cave complex. The football team have been trapped since June 23.
Japanese cult: The leader and several members of the Aum Shinrikyo doomsday cult, which carried out a deadly Sarin gas attack on the Tokyo underground in 1995, have been executed.
US trade war: The United States and China slapped tit-for-tat duties on $34 billion worth of the other's imports.
Brexit meeting: Prime Minister Theresa May is proposing a compromise plan for a Brexit trade deal with the European Union that she hopes will keep her warring Cabinet together, and unblock stalled talks in Brussels.
Look back at how events unfolded this morning by scrolling through the blog below: