Feeling good: positive stories from the week
Comments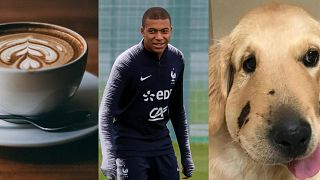 Studies have shown that increasing positive emotions has a powerful effect on our general wellbeing.
Having always a look on the bright side can change our perception and even our reasoning! But is it really that simple with news? We know it's not.
This is why we'd like to introduce you to our roundup of some of the brightest stories from this week.
We hope they'll give you a nice shot of positive energy to cheer up your Friday!
1) Hero pup saves owner from a rattlesnake bite in Arizona
A puppy named Todd took loyalty to new heights after he prevented his owner from being bitten by a rattlesnake during a walk in Arizona's Anthem desert last Friday.
His owner Paula Godwin said that as they were walking, Todd jumped in front of her leg to prevent the snake from biting her. The pup was bitten on his face by the snake instead.
Read more at Euronews
2) Coffee is really, really good for you, new evidence shows
Even the heaviest coffee drinkers are less likely to die early than people who don't drink coffee, new research finds.
Read more at Euronews
3) Momentous win for conservation: Colombia's Serranía de Chiribiquete is now the world's largest tropical rainforest national park
It was also declared a UNESCO World Heritage site in recognition of its "outstanding universal value" for nature and people.
Read more at World Wildlife Organization
4) France striker Kylian Mbappe giving World Cup bonus to charity
Mbappe, 19, is a patron of the Premiers de Cordée association, a charity which helps children with disabilities play sport.
The player will donate around €20,000 per match.
Read more at ESPN
5) Parisian bus drivers finally allowed to wear shorts
Bus drivers in Paris are now allowed to work with shorts when it is warmer than 28 degrees. The 15,000 employees have fought for the shorts for years.
In a recent act of defiance against the dress code, French male bus drivers had worn skirts.
Read more at Hot recent news