Bull running festival kicks off in Spain despite protests
Comments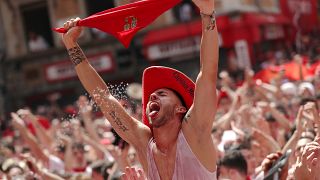 Spain's internationally famous San Fermin festival kicked off on Friday as normal despite protests over sexual violence and the treatment of bulls.
The opening ceremony, known as the "chupinazo", was attended by thousands in the northern city of Pamplona.
The nine-day event dates back to the 14th century. The most famous feature is the Running of the Bulls, where participants race through the streets along with six of the released animals.
There have been a number of protests in recent years over the treatment of the bulls, that end up getting killed in the bullring.
This year also saw a protest over a case of sexual assault on a young woman at the festival in 2016 by a gang of men who referred to themselves as La Manada, which means the wolf-pack.