UK police hunt Novichok nerve agent source
Comments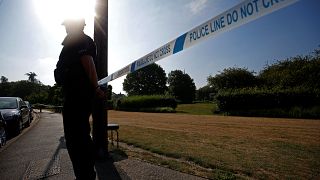 As CCTV footage emerges showing novichok victim Dawn Sturgess a day before the poisoning, investigations continue into the incident.
The two Britons - a couple in their forties - fell critically ill after handling a contaminated item, said police.
Tensions between Britain and Russia are rising over the incident.
On Thursday, Britain urged Russia to provide details about the Novichok nerve agent used against a former Russian spy and his daughter near Salisbury in March.
Anxiety is mounting in the area where the incident happened but public health officials are reassuring residents. 
The latest incident In Amesbury took place only a short distance from the previous poisoning in Salisbury.
Sites in both areas have been sealed off as the pair continue to fight for their lives.
The Kremlin has denied any involvement in either incident, with the Russian embassy in London offering to work with the UK on a joint investigation.
Police are still searching for the contaminated canister that might have caused this latest poisoning.