UK police accuse third man over 2018 Novichok poisonings in Salisbury
Comments
By Euronews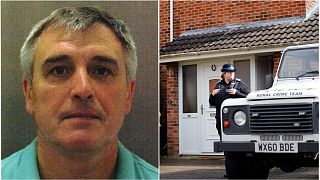 -
A third Russian person has been accused in connection with the 2018 Novichok poisonings in the English cathedral city of Salisbury.
Counter-terrorism police have recommended charges against Sergey Fedotov -- an alias for Denis Sergeev -- including conspiracy to murder, attempted murder as well as possession and use of a chemical weapon.
Authorities believe he is a member of the Russian military intelligence service, the GRU.
British authorities had previously charged two Russian nationals, Anatoliy Chepiga and Alexander Yevgenyevich Mishkin, over the poisonings of former GRU officer Sergei Skripal and his daughter Yulia.
The nerve agent later killed a 44-year-old local woman, Dawn Sturgess, who had inadvertently sprayed herself with a perfume bottle containing the substance.
Another man and a police officer were also hospitalised after being exposed to Novichok.
British authorities the poisoning had almost certainly approved been "at a senior level of the Russian state." Moscow has vehemently denied the allegations.
Russian President Vladimir Putin has claimed the suspects were civilians, and the two suspects appeared on Russian television claiming they had visited Salisbury as tourists.
Online investigative website Bellingcat previously reported that Sergeev was a high-ranking GRU officer and a graduate of Russia's Military Diplomatic Academy.
Arrest warrants have been issued for all three suspects, but Russia does not permit the extradition of its own nationals.
"Should any of these individuals ever travel outside Russia, we will work with our international partners and take every possible step to detain and extradite them to face justice," Home Secretary Priti Patel told Parliament members on Tuesday.
The 2018 Salisbury poisoning case ignited a diplomatic confrontation in which hundreds of envoys were expelled by both Russia and Western nations.