Barcelona deny Rosell "bought liver" for Abidal transplant
Comments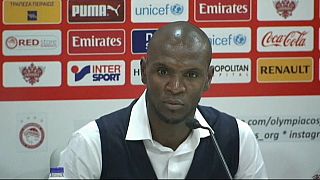 Claims that the former Barcelona president Sandro Rosell illegally bought a liver for French player Eric Abidal have been denied by the club.
The former defender received a transplant in 2012 after a tumour was discovered.
Barcelona say they, "roundly deny any irregularity in the matter."
38 year-old Abidal has also rejected the claims along with the Hospital Clinic de Barcelona where the operation took place.
The watchdog which oversees transplant operations in France said it had undertaken an investigation and found that the donation and transplant took place within the law and according to accepted protocol.
Nevertheless, some reports in Spain suggest that Rosell, who was arrested for money-laundering in 2017, bought the liver.
The club went further in their denial of any wrongdoing, saying they are saddened at the way in which the information had been spread, especially as it was about such a sensitive matter.
Abidal is now retired but previously spent six seasons at the Nou Camp. He returned to Barcelona in April 2013 and moved to Monaco later the same year.