'Health care' worker arrested on suspicion of murdering 8 babies in U.K.
Comments
By Rachel Elbaum with NBC News World News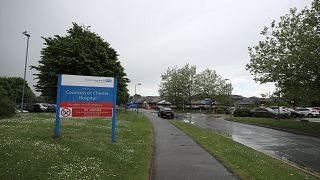 -
LONDON — A woman has been arrested on suspicion of murdering eight babies and trying to murder six more at a hospital in the northwest of England, police said Tuesday.
In a statement, police did not name the suspect and identified her only as a "health care professional."
The arrest comes after a year-long police investigation into the deaths of 17 babies and 15 "non-fatal collapses" at the neonatal unit at The Countess of Chester Hospital between March 2015 and July 2016.
Chester is around 200 miles northwest of London.
"This is an extremely difficult time for all the families and it is important to remember that, at the heart of this, there are a number of bereaved families seeking answers as to what happened to their children," Detective Inspector Paul Hughes, who is in charge of the investigation, said in the statement.
In July 2016, the hospital launched an independent investigation into the deaths of several infants in its neonatal unit. It then asked the police to get involved.
The neonatal unit at the hospital is open to infants and women who are more than 32 weeks pregnant.