Paris mayor makes 'rainbow crossings' permanent in response to homophobic vandalism
Comments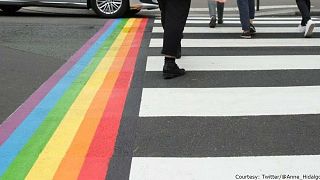 Paris has stood its ground after homophobic graffiti appeared on one of the rainbow pedestrian crossings painted for Gay Pride — with authorities now making the street art permanent.
"Paris is a city of refuge that embraces Republican values of freedom, equality and fraternity," the city's mayor, Anne Hidalgo, wrote on Twitter on Wednesday.
"In order for these values to be recorded forever, the rainbow pedestrian crossings created for Gay Pride will be made permanent!"
Several crossroads in the Marais district, where most of Paris' gay bars and nightclubs are located, were decorated with temporary bands of colour on June 14 ahead of Pride.
One was covered with homophobic insults; "Dictature LGBT" (LGBT dictatorship) and Hidalgo dégage (Hidalgo go away) were scrawled across the rainbow borders.
Hidalgo said the vandalism "wouldn't go unpunished".
The graffiti is just one in a spate of homophobic incidents in Paris around Pride — on Friday a self-styled far-right anti-LGBT activist was arrested after he tore down a rainbow flag placed at the French Parliament.
Despite this, thousands marched in support of LGBT rights at the city's annual parade on Saturday.