Obrador and Trump talk immigration and trade in their first phone call
Comments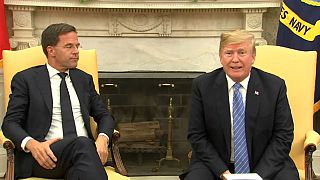 Mexico's next leader, Andres Manuel Lopez Obrador shared his first phone call with the US President Donald Trump on Monday.
Relations between Mexico and the United States have been strained over the past two years, particularly over trade and the future of NAFTA.
Lopez Obrador, won a landslide election victory on Sunday dealing a crushing blow to establishment parties. The 64-year-old became the first leftist to win the Mexican presidency since one-party rule ended in 2000.
President-elect Lopez Obrador was elected on a promise to take a firm stand against Trump particularly in areas of trade and migration.
Trump has regularly criticized Mexico and even promised to build a border wall between the two countries.
After the election win, Trump was one of the first to congratulate the new leader on his victory. But whether this concilliatory tone is short-lived or long lasting remains to be seen