Mayor 'killed by sniper' during city hall ceremony in Philippines
Comments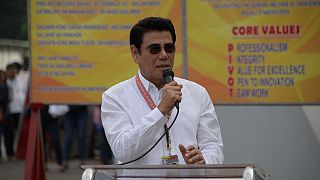 Copyright

Facebook/Tanauan City's Hope
Philippine Mayor Antonio Halili was fatally shot by a sniper during a weekly flag ceremony at Tanauan's city hall in the Batangas region of the Philippines on Monday, according to state media Philippines News Agency. 
A special investigation has been opened and the assailant's motive was not immediately known. 
Halili, who was shot in the chest, was rushed to the hospital, where he was pronounced dead, a police spokesperson told Rappler.
The incident was captured on Facebook live by Tanauan City public information officer Gerry Laresma. In the video, those attending the ceremony are singing the national anthem when a gunshot is heard, prompting bystanders to flee the area in panic. Several others rush to the aid of Halili. 
Laresma told PNA that the mayor, who once had termed himself the "Duterte of Batangas," had been receiving death threats due to his long-standing controversial anti-drug campaign which often saw people accused of drug offences paraded around the streets. 
In 2016, Halili was asked to resign from his post due to alleged links to the illegal narcotics trade, and in 2017, he was deprived of police-supervising powers by the government for confirmed drug ties.