Sky 'confident' Chris Froome will ride Tour de France despite ban attempt
Comments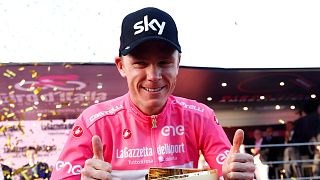 Defending champion Chris Froome will ride the Tour de France even if the organisers of cycling's biggest race want to prevent the four-time winner from appearing in this year's event, says Team Sky.
His wife and representative Michelle Froome told Reuters: "Chris will ride the Tour". A statement from Sky said the team was "confident" he would compete as "we know he has done nothing wrong".
The 32-year-old failed a doping test in September and is facing a suspension from cycling ahead of his attempt to win a record-equalling fifth tour. He tested positive for twice the allowed amount of asthma drug Salbutamol.
According to Le Monde, race organisers intend to prevent him from riding in this year's race while his case is pending.
Amaury Sport Organisation (ASO) has written formally to Team Sky seeking to exclude Froome under a rule which allows them to ban a team or rider from competing if their presence would damage the organisers' image or reputation, the French newspaper says. The UK team have immediately launched an appeal.
The Tour de France begins in Paris on Saturday (July 7). The British cyclist's appeal will be heard on Tuesday, with a decision expected to be announced the next day.