Tense search for lost cave boys in Thailand continues
Comments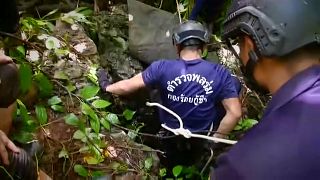 In Thailand, a search for 12 boys and their soccer coach has now been going on for a week. The group went to explore a 10km long cave complex in Chiang Rai province despite warnings that the maze of passages was prone to flooding. Their bikes were found at the entrance to the cave.
It's thought that shortly after they descended heavy rain sent floodwaters powering through the passageways.
Rescuers hope the group is alive and perhaps trapped by the water. Police have dropped survival packages through a shaft drilled into the mountainside not knowing if anyone has received them.
Police have been scouring mountain slopes above the cave in search of other ways in as divers tried to find their way through the flooded passages.
Cave rescue experts from as far away as the United States and the UK are helping Thai authorities in the search that has gripped the nation.