Paris Pride marches on despite homophobic attacks
Comments
By Andrei Vaitovich & Sallyann Nicholls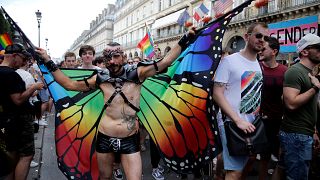 Thousands marched in support of LGBT rights at the annual Paris Gay Pride on Saturday, despite fears that recent homophobic attacks in the French capital would overshadow the event.
On Friday a self-styled far-right anti-LGBT activist was arrested after he tore down a rainbow flag placed at the French Parliament.
Rainbow colours which were used to cover homophobic graffiti in a central district of Paris were also defaced earlier this week and again daubed with offensive messages.
But in a bid to double-down against recent homophobic attacks, Paris mayor Anne Hidalgo decided the colourful LGBT symbols, which were painted on crossings in Marais, would be preserved.
She said in a tweet: "Paris is a city of refuge that embraces the Republican values of freedom, equality and fraternity. In order for these values to be recorded forever, the rainbow pedestrian walkways created for Gay Pride will be permanent!"
Watch Euronews' correspondent Andrei Vaitovich's report from the march.