Brazilian soccer league takes on homophobia
Comments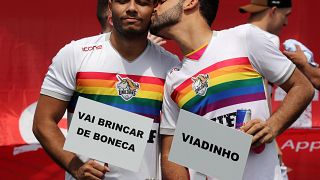 Brazilian football league LiGay came together in Sao Paolo this weekend for a season ending tournament.
LGBT players and fans started the league last year to tackle homophobia in the often macho sport. It now has 16 teams nationwide.
The tournament took place just days after the election of far-right candidate Jair Bolsonaro to the presidency. His homophobic remarks have concerned the LGBT community.
Players say that won't stop them from kicking discrimination to the curb.
"LiGay is a gay soccer league which was created to provide a space to practise this sport, "says organiser Erick Adance, "without fear, without homophobia, without fear of any type of discrimination."
"I went two years without playing soccer because I couldn`t find a team," says player Jonathan Nascimento. "Then I found out there were gay teams. I don`t want to go back into the closet because of prejudice from straight members of a team".
"No Bolsonaro, no Bolsonaro supporter is going to threaten me," Nascimento adds. "No one is going to take this enjoyment away from me. We are the resistance".
Football's governing body FIFA has clear rules against discrimination on the basis of sexual orientation but activists say awarding the recent World Cups to both Russia and Qatar sends out conflicting messages.
But LiGay says that won't stand in the way of its goal. The league plans to expand further nationally, reaching out to LGBT groups across Brazil to enter their own teams for next year's tournament.