Britain's Prince William meets Mahmoud Abbas
Comments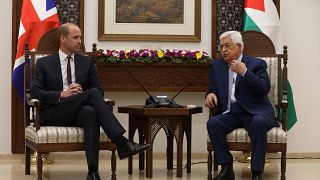 The UK's Prince William expressed his wish for lasting peace as he continued his tour of the Middle East by visiting the Palestinian Territories, the first British royal to officially do so.
A red carpet, marching band and a guard of honour welcomed the 36-year-old prince, also known as the Duke of Cambridge.
It was one of the most politically sensitive stops in his tour of the region, and on meeting the president of the territories, Mahmoud Abbass the Duke broke with protocol by referring to the Palestinian Authority as "a country".
"I'm very glad our two countries work so closely together and have had success stories with education and relief work in the past, so, long may that continue. My sentiment's the same as yours in hoping there's a lasting peace for the region."
Prince William, who started his Middle East tour in Jordan on Sunday, also visited the UN-run Jalazone refugee camp.
Until now it has been British policy not to make an official royal visit to Israel and the occupied territories until the Israeli -Palestinian conflict is resolved, however for some observers this trip may well have put a shine on Prince William's international credentials.