Migrants on Lifeline ship arrive in Malta
Comments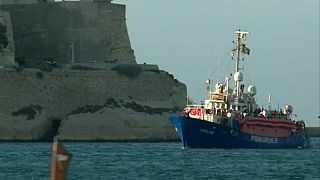 After being stranded out at sea on the Lifeline ship for almost a week, over two hundred (234) migrants are finally on land at Malta.
It's after Italy refused to let the ship dock.
The vessel, operated by German charity Mission Lifeline, is the second ship that Italy has shut out of its ports this month.
The ship will be detained and the captain questioned because of its refusal to leave the migrant boats to be intercepted by the Libyan coastguard, as it had been told to do by Italian authorities.
Meanwhile, eight European countries will take some of the refugees once they qualify.
The Maltese government tweeted that Belgium, France, Ireland, Italy, Luxembourg, Malta, Netherlands and Portugal have come together on an 'ad hoc' solution.
Malta's Prime Minister, says processing everyone will start at once.
Joseph Muscat, Maltese Prime Minister says, "Genuine asylum seekers will be afforded protection as established in the different member states. Procedures will start immediately to return those who do not qualify for protection after due process and in accordance with European and international rules. European institutions will assist in these returns."
On Tuesday, the Danish cargo ship, the Alexander Maersk carrying over a hundred migrants, was able to dock in Italy.
Italy has taken in 650,000 boat migrants since 2014 but its new, tough approach of turning away ships has aggravated EU tensions over immigration policy.