Russian pop star close to Trump enacts 'pee tape' in latest video
Comments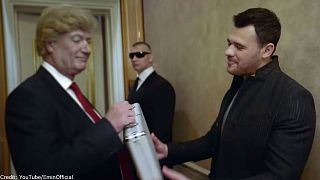 Russian pop star Emin Agalarov, known for arranging a meeting between Donald Trump and a Russian lawyer claiming to have damaging information on Hillary Clinton, has released a music video with Trump and Kim Jong Un lookalikes.
In his latest music video, posted on Youtube on Tuesday, Emin sings "You really got me good" while seemingly orchestrating meetings between Donald and Ivanka Trump, Hillary Clinton and Mark Zuckerberg.
The video opens with a faceless man watching CCTV footage of Emin and a Trump lookalike entering a hotel accompanied by girls wearing beauty pageant sashes. Later in the video, the girls remove their clothes and enact a pillow fight, while the person watching on CCTV alters the footage to delete Trump.
The scene seemingly enacts the claims that the Russian government had taped Trump meeting with prostitutes in a Moscow hotel in 2013. The alleged footage was dubbed "pee tape".
Emin is also seen covertly meeting and exchanging money with actors strongly resembling Ivanka Trump, Hillary Clinton and Mark Zuckerberg.
All the while, the singer croons: "I wish you could at least just be honest, I wish that you'd told me the truth."
At the end of the video, the faceless orchestrator is revealed to be North Korean leader Kim Jong Un.
Emin is the son and business partner of the billionaire real estate tycoon Aras Agalarov. Both had regular dealings with Trump and worked with him to bring the Miss Universe pageant to Moscow in 2013.
It was revealed in June last year that Emin had been instrumental in organising a meeting between the Trump campaign and a Russian lawyer who claimed to have damaging information on Trump's presidential election opponent, Hillary Clinton.
Trump also made a cameo in Emin's music video for the song "In Another Life" in which he delivered his famous catchphrase: "You're fired."