Prince William honours holocaust victims during Israel visit
Comments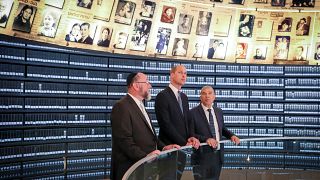 Prince William began a series of engagements in Israel on Tuesday (June 26) by paying tribute to the six million Jews killed in the Nazi Holocaust.
It is the first official visit by a British Royal to Israel and the Palestinian territories.
William laid a wreath at the Yad Vasham Holocaust Memorial in Jerusalem, a stone structure that illuminates the names of 22 of the most infamous Nazi concentration camps.
He was then introduced to 86-year-old Henry Foner and 80-year-old Paul Alexander who were among thousands of Jewish children taken in by Britain between 1938 and 1940.
William's great-grandmother, Princess Alice, was honoured by Israeli Prime Minister Benjamin Netanyahu for sheltering Jewish children at her home in Greece during the holocaust
The prince then attended a fooball match between young Jewish and Arab players in Tel Aviv. He took time to speak with the players before taking part in a penalty shootout.