France among six EU countries agreeing to take passengers from migrant ship
Comments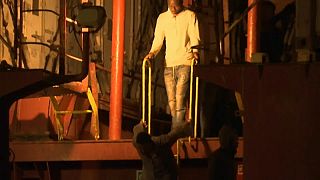 France will join a group of other European Nations to welcome the latest migrants to be rescued in the Mediterranean, Emmanuel Macron has announced.
Speaking at a press conference at the Vatican, the French president said a few dozen of the 230 passengers on board the Lifeline would go to each of six EU nations, following an agreement between their leaders.
Malta today agreed to accept the Lifeline, a ship run by a German aid agency, which had become involved after in a standoff with the Italian authorities.
Italy ultimately allowed another vessel, a Danish cargo ship which rescued over 113 migrants to dock at the Sicilian port of Pozzallo.
The current crisis began with an incident involving the Aquarius rescue ship, which was diverted from Italy to Spain after rescuing hundreds of migrants off the coast of Libya, earlier this month.
Italy has taken in 650,000 boat migrants since 2014 but its new, tough approach of turning away ships has aggravated EU tensions over immigration policy.
Italy still refuses to let rescue ships run by aid agencies, such as the Lifeline dock at its ports, and may only have made an exception because the Alexander Maersk is a commercial cargo ship.
After speaking with his Maltese counterpart Italy's prime minister Giuseppe Conte said Lifeline would be impounded and its captain investigated over reports that he ignored instructions to let the Libyan coastguard pick up the migrants.
The Italian government says such rescue missions help people smugglers and encourage migrants to make the dangerous journey across the sea.
Also on Tuesday Malta denied charity rescue ship Aquarius access to its port for re-supply and a crew change, without providing any explanation for the decision, humanitarian group Doctors without Borders (MSF) said on Twitter.
EU leaders will hold another summit on migration this weekend - on Monday the Italian government raised the idea of creating reception centres for migrants on Libyan soil and processing them there in an attempt to stop them making the risky voyage across the Mediterranean.
Local media reports indicated the proposal has been dismissed by Libya.