How far can the EU go in changing its migration rules? | Explained
Comments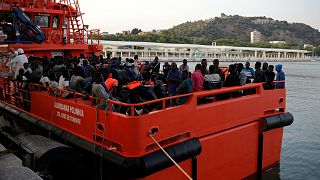 EU leaders are preparing to meet on Thursday for a major two-day summit in which they will discuss possible measures to limit migrant arrivals amid stark divisions in the bloc.
Europe's migration crisis is easing, with the number of arrivals falling to the tens of thousands so far this year from a peak of more than a million in 2015. But debate over the issue has heightened between EU leaders in recent weeks, as several cases of NGO vessels being left adrift after being denied entry to European ports have hit headlines.
Italy has long been overwhelmed with arrivals and is now, alongside governments such as Austria and Hungary, pushing for tougher EU anti-immigration policies.
But with existing obligations under wider EU and international laws, what are the limits to the changes they could make? Are the changes being proposed legal? And how likely is it that anything will be agreed on this week?
We spoke to experts to find out.
Limits
Human rights
Legislation severely limits any reforms that would affect the human rights of migrants attempting to reach Europe, Violeta Moreno-Lax, senior lecturer in law at Queen Mary University of London, told Euronews.
European countries have to ensure that migrants have a right to life and liberty and that no action will be taken that leads to inhuman treatment, refoulement or collective expulsion.
"All of that is black and white in the European Convention on Human Rights and also belongs to EU law," Moreno-Lax explained.
"The Charter of Fundamental Rights in light of which all pieces of EU legislation, including the Schengen Border Code, have to be interpreted would represent a big limit as to what can be reformed and how reforms can be adopted," she added.
Right to asylum
EU law also guarantees that people have the right to asylum.
"Curtailing the possibility for people to access places where they can seek asylum in line with EU law, which applies both territoriality and extraterritorially, would be against the Schengen Border Code and the Charter of Fundamental Human Rights," Moreno-Lax said.
Law of the Sea
The UN Convention on the Law of the Sea, which all EU member states are party to, establishes the ways in which countries can control their territorial waters.
While countries can take action to prohibit "non-innocent" actions in their waters, there is a caveat for cases of distress, danger or situations in which boats need access to render assistance, Moreno-Lax said.
While Italy and Malta have closed their ports to NGO ships in recent weeks, Moreno-Lax said such a policy "cannot be 'Europeanised' into an EU-wide reform because it would be contrary to the obligations of the member states."
Gap in international law
Central to the current divide over migration is the EU's asylum system, the Dublin Regulation, under which an asylum request should usually be presented in the first European country the person arrives in.
The regulation enables EU countries to deport asylum seekers to the country where they first landed.
Countries like Italy and Greece, which lie on the Mediterranean routes into the EU, argue that this system means that they have been left to deal with a disproportionate amount of asylum claims.
"No one wants to open their ports because that leads to basically being responsible for the person all throughout the subsequent procedure and stay in the country," Moreno-Lax said.
Ralph Wilde, an expert in public international law, said the issue of equitable distribution of migrants is a legal gap.
"In general, the issue in law is only about protection — it's not about where the protection is provided," he said.
"One of the problems with international law is that it doesn't have a system of addressing [the imbalance] through sharing out the responsibility of hosting those refugees. Human rights law doesn't prevent that and Dublin has nothing to do with it."
The Australia model?
Among proposals set to be discussed in the meeting this week is the idea of "regional disembarkation centres" outside of the EU where the bloc would assess asylum claims and hold those whose requests fail before they are sent back.
Wilde noted that international rules barring sending someone back to face harm "doesn't mean you have to give someone that protection in your own state."
Wilde cited the example of Australia, which has used offshore facilities on Nauru and Papua New Guinea in the South Pacific to process claims.
But while the obligation to protect people from harm under international law doesn't prevent offshore asylum centres, Wilde said the "crucial thing is what are the conditions in these places that the individuals are sent to. If the conditions violate human rights law then it would be a problem.
"That has been the issue in the Australian facilities."
Scale of reform
Experts told Euronews that major divides within the EU on migration would make an agreement on reforms to the Dublin Regulation difficult.
"I think this is going to be an extremely tough meeting and there are going to be extremely vivid voices," said Yves Pascouau, a migration expert and editor of EuropeanMigrationLaw.eu.
Pascouau said that while the EU "could reach a consensus on a series of regulations some of which are going to sanction more heavily asylum seekers," changes to the Dublin Regulation remain the "big question mark".
Moreno-Lax agreed.
"I'm not very optimistic that on June 28 governments are going to be particularly sympathetic to Italy and Greece and Spain to the extent to modify the Dublin system," she said.
Instead, she said the EU would likely focus its efforts on establishing ways to prevent movement of migrants to stop them reaching European borders in the first place.
She argued that with migrant numbers dramatically in decline, such moves are the result of a "political crisis, not a 'refugee crisis'."
"Respect for the fundamental rights inscribed in the Treaties and the EU Charter are founding principles of European integration and should be beyond ideology," she said.