World Cup: Nigeria dominate Iceland in 2-0 win
Comments
By Ben Gibson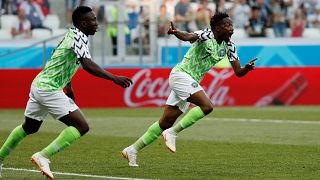 Copyright

REUTERS/Toru Hanai
Nigeria has won their first match in this year's World Cup after they beat Iceland 2-0.
The two goals were scored by Ahmed Musa.
His first goal required a delicate touch to control the ball before he hammered it home off a half volley.
Later on, in the second half, he took the ball around the keeper and scored yet again.
Iceland was not down and out as they tried to press Nigeria, but they were unable to get a ball into the final third.
Gylfi Sigurdsson had a penalty chance, but he sent it high over the bar, even though the keeper moved early.
With this result, it means that either, Nigeria, Argentina or Iceland can join Croatia in getting into the last 16.
Five takeaways from Nigeria vs Iceland
The deafening thunderclap
When Iceland seemed to be lacking in confidence during the game, their fans showed their support by way of the deafening thunderclap. This seemed to help boost the team's morale and gave them what looked like a new lease of life.
Iceland focused on defence
For the majority of the match, Iceland were comfortable defending. However, when they conceded and needed to attack, the side were unable to move forward and maintain their defence. This shows that for their next game against Croatia, they will either need to score first or work on their counter-attack.
Anyone could still go through
With this result, it means that either Argentina, Iceland or Nigeria can go through to the last 16. This will depend on who wins their next game and what the goal difference is between the teams.
VAR works
VAR was used in the match to award a penalty for Iceland. The decision took some time to be decided upon on the pitch but it did help give an accurate result in Iceland's favour, suggesting that, as the tournament progresses, the technology is being put to much better use.
Iceland struggled in the heat
Iceland were not used to playing in the heat of Volgograd and this showed in their performance. Normally, they are able to keep their cool but today they struggled to deal with both the heat and their opponent's attacks.