Nigerian captain told of father's kidnapping hours before World Cup match
Comments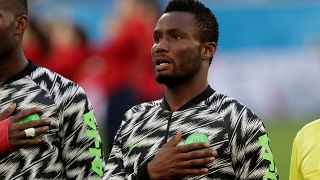 Copyright

REUTERS/Henry Romero/File photo

-
John Obi Mikel, captain of the Nigerian football team, revealed Tuesday that he led the team in its World Cup match against Argentina after receiving news his father had been kidnapped and warned he would be killed if Mikel reported anything.
Mikel told Kwese ESPN that he received a phone call four hours before the Nigerian team was to meet Argentina on June 26. The Nigerian team was then en route to the St Petersburg stadium where the group match took place.
"I was confused. I did not know what to do, but in the end I knew that I could not let 180 million Nigerians down," Mikel said.
"I had to shut it out of my head and go and represent my country first. I was told that they would shoot my dad instantly if I reported to the authorities or told anybody.
"And I did not want to discuss it with the coach because I did not want my issue to become a distraction to the coach or the rest of the team on the day of such an important game. So as much as I wanted to discuss it with the coach, I could not do it."
Nigeria lost the match 2-1 and failed to qualify for the knockout stage.
According to local police, Pa Michael Obi was headed to a funeral in southeastern Nigeria when he was kidnapped. The abductors then demanded a ransom of N10 million (€23,800). Obi was rescued on Monday, wth police describing him as "hale and hearty."
Police also said in a statement that "in the process of the rescue, a gun duel ensued between police operatives and the kidnappers, which forced the hoodlums to abandon their victims inside the forest and they were promptly rescued."
Mikel thanked police in a statement posted on Twitter for "ensuring the safe return of my father."
"He is now recuperating with family," he added.