Trump threatens EU with tariffs on cars
Comments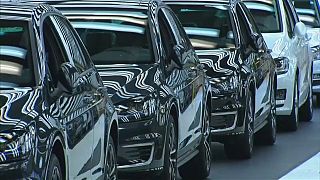 President Donald Trump on Friday threatened to escalate a trade war with Europe by imposing a 20 per cent tariff on all US imports of European Union-assembled cars.
Trump posted his threat on Twitter the day European Union reprisals took effect against US tariffs on European steel and aluminum.
The EU targeted $3.2 billion in American goods exported to the 28-member bloc.
"If these Tariffs and Barriers are not soon broken down and removed, we will be placing a 20% Tariff on all of their cars coming into the U.S. Build them here!" Trump wrote.
Trump has launched or threatened an array of trade measures, saying he aims to create US jobs and protect domestic industries.
Trump has repeatedly criticised German car imports. He reportedly told French President Emmanuel Macron he wanted to halt Mercedes-Benz models from driving down Fifth Avenue in New York City.
Republican lawmakers and business groups have opposed higher car tariffs.