Iceland fans drive all the way to Russia - in a Lada
Comments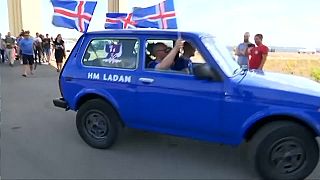 Two Iceland football fans have paid homage to the spirit of the Vikings by travelling 5,000 kilometres to watch their team play in the World Cup - and they did it in a Russian-built Lada that they won in a competition.
Gretar Jonsson and Kristbjorn Hilmir Kjartanssonr took a ferry from Iceland to Denmark and then spent 14 days driving to Moscow, where they watched Iceland hold Argentina to a 1-1 draw.
Jonsson said: "It's taking a Russian car which is not known for being reliable or the best choice ... and driving all the way from Iceland to Russia for an event that is so far away with such distances between the cities - it's crazy but it's so much fun and it's such a crazy idea that it's a great idea.''
After Moscow they headed south to Volgograd for their team's second game against Nigeria on Friday.
Next stop is Rostov-on-Don for Iceland's last Group D game against Croatia.