EU citizens must pay €74 to stay in UK after Brexit
Comments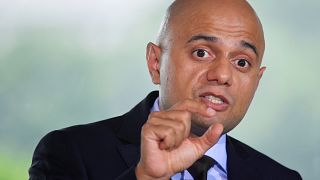 European Union citizens will have to pay up to £65 (€74) to stay in the UK as part of its settlement scheme after Brexit, the government announced on Thursday.
Here are the main things to know about the scheme:
EU citizens will be asked to prove their identity, that they have no criminal convictions and that they currently live in the UK;

The application process will open later in the year, no set date has been given yet;

Applications are to be made online or through an Android app and will cost £65 (€74) for adults and £32.5 (€37) for children;

The government's "default" position will be to grant, and not refuse, settled status, said Britain's Home Secretary Sajid Javid;

Decisions on applications will take "a matter of days" instead of the current six-month delay for residency permits.
What is 'settled status'?
Under UK plans outlined last year, EU residents who have been continuously and lawfully living in the UK for five years by 31 December 2020 — when the Brexit transition period expires — will be able to apply to stay indefinitely by getting settled status.
Those who arrive before the end of the transition period but who have not resided in the UK for the required five-year threshold will be able to apply to stay until they have reached it and apply for settled status.
Settled status or temporary permission to stay will grant EU citizens the same access as they currently do to healthcare, pensions and other benefits in the UK.
Family members who are living with, or join, EU citizens in the UK by 31 December 2020 will also be able to apply for settled status, usually after 5 years in the UK, while close family members (spouses, civil and unmarried partners, dependent children and grandchildren, and dependent parents and grandparents) will be able to join EU citizens after exit, where the relationship existed on 31 December 2020.
EU 'taking far too long'
Ahead of the settlement scheme announcement, Britain's Home Secretary Sajid Javid criticised EU countries on Thursday for "taking far too long" to outline their plans for Britons living on the continent after Brexit.
Javid called on EU member states to "set out how they will support British citizens living in their countries."
"They're taking far too long," he posted on Twitter.
"Publishing details of how we will administer our settled status scheme shows we are honouring the commitments made towards EU citizens living in the UK," Javid said in a statement."
"But I am concerned that I have not seen any similar plans on how EU member states are going to support British nationals in their countries. This is not good enough and I hope both the European Parliament and Commission will exert more pressure for them to do this as soon as possible."
There are 3.8 million EU citizens living in the UK and 900,000 Brits residing in the EU, according to official British statistics.
The EU Parliament's chief negotiator, Guy Verhofstadt, who met with Javid in London earlier in the week, echoed the British minister's call:
"I am far from happy with the treatment of UK citizens in the EU27," he posted on Twitter on Tuesday.
"Most Member States have not yet started the process or procedures," he said, adding that "both the UK & the EU have a duty to mitigate the damage of #Brexit for citizens."
EU citizens 'punished'?
Javid is to lay out further details about the settled status scheme today, including when it will be rolled out and will cost £65 (€74).
The government previously said the application for settled status should cost no more than that of a British passport which costs £75.50 (€86) for an adult, a policy Verhofstadt has criticised.
"Why should EU citizens, who have contributed to British society & paid their taxes, be financially punished for Brexit, when they were denied a vote?," he posted on Twitter Thursday.