Too old to be molested? Italian sexual harassment case sparks debate
Comments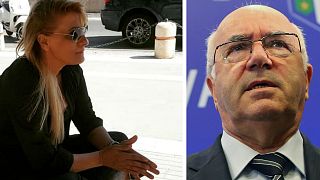 Italian prosecutors are calling for a woman's sexual harassment case against the former head of Italy's football federation to be dropped because they believe she was too old to be intimidated.
Elisabetta Cortani, now 53, filed a complaint in November 2017 over two incidents of alleged harassment and groping by Italy's former FA president Carlo Tavecchio in 2015 and 2016.
Tavecchio has denied the allegations.
Under Italian law, sexual harassment cases have to reported within six months of the incident, unless there are proven aggravating circumstances.
In cases involving public officials who commit the offence while exercising their duties, a case can be filed beyond that time limit on the basis that the victim was in a state of "psychological subjugation" towards the "powerful".
A report by prosecutors in Rome, obtained by the Guardian newspaper, said Cortani's allegations were likely to be accurate but that the case hadn't been pursued because it was reported too late.
The report also said that because Cortani, the president of the Lazio Women's football club, was in her 50s at the time of the alleged incidents, she would not have been in a state of fear or subjugation.
Cortani's lawyer, Domenico Mariani, is now opposing the prosecutors' calls for the case to be dropped.
"In excluding this hypothetical state of fear, the Public Prosecutor's Office highlighted the age of the offended person together with her long experience as president of a women's football association," Mariani told Euronews.
"Our system provides for greater protection for minors but does not provide for a situation in which a person of a certain age can not suffer sexual violence or not being in a state of psychological awe/fear".
While Cortani did not immediately file the complaint, Mariani noted that she did reveal what had happened to friends, by telling them that "a friend" had been abused by an employer and was afraid of retaliation.
"In fact, she was talking about herself. These friends advised her to record the meetings with a camera. And this is what she did," he said, arguing that the prosecutors had not taken Cortani raising the issue with her friends into account.
'I will go forward'
Cortani claims she went to Tavecchio's office in May 2015 to ask him about some sports clubs joining the football federation when he began touching her breasts and trying to kiss her on the lips. She says she was shocked by the behaviour, pretended to ignore him and left the office.
In August the following year, Cortani wore a hidden camera to a meeting with Tavecchio where the report alleges he asked her whether she had a lot of sex, tried to push her on the couch, began kissing her and groped her breasts.
Cortani told Euronews that she would continue to pursue the case despite the reaction of the prosecution.
"I will go forward. This 'mud machine' and the comments on women being the ones provoking [men's desire] won't intimidate me," she said.
"The case has not been archived but prosecutors have filed a request to dismiss the complaint, acknowledging the harassment on the basis of an Italian law that says the fact has to be reported within six months. If this had been the only reason, without pointing out that I am 50 years old, I could have defended myself, I could have fought to change the law but I would have accepted the Italian law in silence"
Tavecchio's lawyer, Vittorio Pisa, told Euronews he hadn't read the prosecutions' justifications for wanting to drop the case.
"We always said Tavecchio has nothing to do with it and he is innocent but I have to read the request before deciding how to further proceed. I am more curious than you to find out what's written in it," he said.