Creative minds meet at Cannes Lions
Comments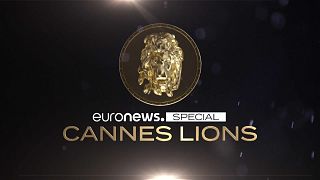 Every year business executives, influencers, and celebrities head to the French Riviera for Cannes Lions - the world's biggest festival of creativity.
For decades this annual event has been celebrating the most innovative minds from all over the world.
Euronews' Oleksandra Vakulina will be talking to business executives and influencers at Cannes Lions to find out what inspires them and what are they driven by during this age of creativity.
Chris Duffey, Strategic Development Manager at Adobe, told her that in this age of digitalisation what inspires him is the mixture of human creativity and technology.
"I am still fascinated by that intersection of creativity and technology," says Duffey. "What is that relationship between human creativity and technology and what does that look like. In this we can hope for the magical balance and we would like to break it down to three or four ways where that relationship can be that of an assistance, of a peer or a muse and that the technology can play within the ideation, and creation and distribution."
Atilla Cansun, Chief Marketing Officer of Merck Consumer Health, is responsible for leading globally a brand portfolio worth $1 billion. He has been coming to Cannes Lions for four years now and says there is now more attention to healthcare:
"There is dedicated time and attention for health and from a brand building communication perspective healthcare for whatever reason has been a little bit behind so we also at Merck as front-runner from this area, we are super interested in seeing how is the industry evolving from a brand building communication perspective," he says.
"The first two days are going to be more focused on health so it's a biggy for me which I am always looking forward to."