Croatia beat Nigeria 2-0 in their first game of the World Cup
Comments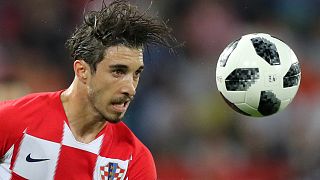 Croatia beat Nigeria 2-0 over in a game which, overall, lacked quality.
The Eastern European team had been the better side and kept the ball more but didn't give an excellent performance.
It took an own goal from Oghenekaro Etebo to give Croatia the lead — the ball struck Etebo following a Mandžukić header and rolled into his own net.
Modrić put a second goal in the bottom left corner after sending the keeper diving the other way, which spelt the end for Nigeria.
There were worrying scenes with 10 minutes to the end of the match with Musa is down for Nigeria and Strinić is down for Croatia following a collision between the two. Both received treatment but appeared to be OK.
Despite not playing brilliantly, Croatia now find themselves at the top of Group D thanks to Nigeria's shoddy performance.
Five takeaways from Croatia vs Macedonia
Lacklustre from both teams
The game itself was by no means a classic, lacking any sort of intensity or pace and Luka Modrić was the only player to add any real quality. It felt like the game was just a friendly with no real consequence, when that was anything but the case as a win would've put either team top. Croatia were average but Nigeria were poor and both will have to improve to stand a chance of progressing.
Oghenekaro Etebo's own goal
Although Nigeria lacked any attacking threat throughout the game, they would have been fairly happy with the way the game started. Neither side had any chances, even if the African team weren't scoring, at least they hadn't conceded... that was until a Croatia corner was headed onto Etebo and rebounded into the net. The own goal was one of the only memorable parts from a game lacking in any standout moments.
William Ekong's rugby tackle
When the ball was played onto the pitch from a Croatian corner and the referee gave a penalty, it wasn't immediately clear what it was for but once replays showed Ekong's "challenge", it became clear. The Nigerian had both of his arms wrapped around Mandzukic's neck, an obvious penalty. Ekong's decision was a moment of madness and it made sure that Nigeria had no chance of getting anything from the game.
Fans can enjoy any game
Although the football on the pitch was below-par the atmosphere in the stands it was definitely wasn't. Even with Nigeria's poor performance, their fans made it feel like there was a party in the stands. It just goes to show that the atmosphere in the crowd really can change the way a match feels.
Not too long to wait
The quicker we can forget this game, the better. Costa Rica take on Serbia at 2 pm CEST on Sunday, so we don't have long to wait until we can enjoy yet more World Cup football!