Massive blaze is a 'devastating loss for Glasgow'
Comments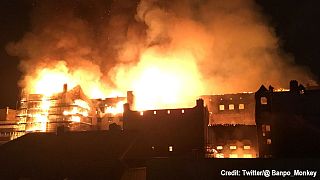 A huge fire has ripped through one of Scotland's architectural gems for the second time in four years.
The blaze broke out at the Mackintosh building of Glasgow's School of Art late on Friday (June 15) evening.
It also engulfed a nearby theatre and nightclub.
Scottish Fire and Rescue Service (SFRS), who were still working to extinguish the flames on Saturday morning, said no-one was killed or injured in the incident.
"This is a devastating loss for Glasgow, absolutely devastating," Peter Heath, deputy assistant chief officer of SFRS told reporters at the scene.
The building, designed by the Scottish architect Charles Rennie Mackintosh, had been undergoing restoration after a fire in 2014.
"My first thoughts tonight are for the safety of people — but my heart also breaks for Glasgow's beloved School of Art," Scottish First Minister Nicola Sturgeon said on Twitter.