New Year 'firenado' threatens Dutch seaside resort
Comments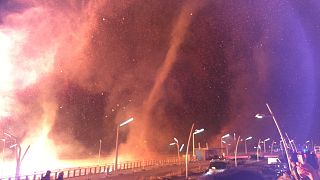 Firefighters in the Netherlands spent New Year's Eve battling a beach bonfire burning out of control, threatening the seaside resort of Scheveningen. 
The bonfire, which is made out of wooden pallets, is built annually as part of a tradition where Scheveningen, a coastal district of The Hague, competes with neighbouring Duindorp.
But this year, flames fanned by the wind were whipped into tornadoes over the sand dunes. The blaze sent a shower of ash and sparks over the city, igniting fires on the roofs of nearby buildings and homes. No injuries have been reported.
Mayor of The Hague, Pauline Krikke, said authorities would be looking into what went wrong with this year's bonfires and whether it is appropriate to continue the annual event.
Firefighters eventually extinguished the blaze at around 5am, the NL Times reports, after police were brought in to control bystanders to allow the firemen to work.