Young Russians inspired by World Cup heroes
Comments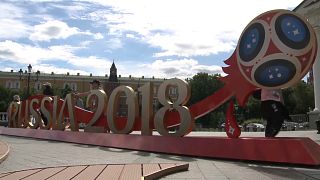 Russia may not be not among the favourites in the World Cup but the country hopes to win in other ways. Those involved with the beautiful game are convinced that staging the competition in Russia will encourage and enthuse young people to take up the sport.
"This is a breakthrough for football in Russia," said former UEFA Cup winner Valery Gazzaev, State Duma Sports Committee Deputy Chairman. "Because magnificent infrastructure has been built, a huge number of social facilities have been built and of course this is an example for our youth. I assure you that in four, eight years maximum, the level of football in Russia will be very high and we at such prestigious tournaments will be one of the favourites."
Some of Russia's potential future soccer stars make it to the Chertanovo Football Academy in Moscow. As well as training the young players are made to study. For each one of them, the World Cup coming to Russia is a dream come true.
"I dream of becoming a football star and It seems to me that this World Cup opens new roads in football, said ten-year-old Georgy Borisov.
"Top teams demonstrate skillful play," added ten-year-old Gleb Shulga. "I am learning from them, I want to become a world champion, to play for Barcelona, Real Madrid; maybe I will play as they do and maybe even better!"
Eleven-year-old Karataeva Anastasiya hopes that she will be lucky enough to meet her football idol, Cristiano Ronaldo. Her dream is to be able to go to watch the Portugal national team training.
"I was five-years-old when I became Ronaldo's fan, for me he is the world star, I will do my best to get there because he's a world star and my idol."