Exclusive: Migrant ship heads to Spain
Comments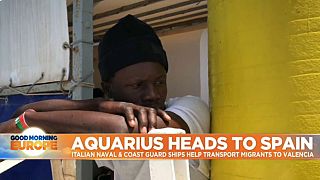 Hundreds of migrants who have been rescued from Libyan waters are coming to the end of their long journey to Europe
Granted permission to dock in Spain after being barred from entering both Italy and Malta, the group are facing rough seas and a growing political storm.
The French government has accused the Italian authorities of being "irresponsible" for refusing to let the stranded ship into their ports.
New Italian deputy Prime Minister Luigi Di Maio hit back angrily saying "I'm glad the French have discovered responsibility, if they want, we will help them. Let them open their ports and we will transfer a few of the people to France"
Anelise Borges is the only broadcast journalist on the boat since the beginning. She brings this exclusive report.