World Cup 2018: Meet Germany's superfan Armin Hollensteiner
Comments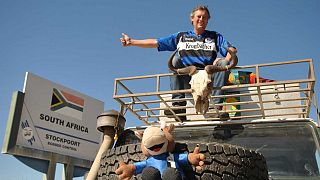 Copyright

Credit: Armin Hollensteiner
Superfans can travel thousands of kilometres and spend up to the thousands in euros, all to support their national team.
Euronews chatted with some of the most dedicated national team supporters around Europe. They tell us why — and how — they always cheer on their teams no matter the distance.
Armin Hollensteiner, one of Germany's ultimate fans, spoke to Euronews about his passion for die Mannschaft.
No distance is too far for die Mannschaft
On June 11, Armin Hollensteiner hit the road once more all to see the German national football team, also known as Mannschaft, play. Rather than going to Russia by plane, Hollensteiner will instead drive, going from city to city during the World Cup — something he did in the last European Championship and 2014 World Cup.
"The programme determines the route," Hollensteiner told Euronews. The first three dates have already been fixed: Moscow, Sochi, and Kazan.
Overall, he estimates that he will cover 12,000 kilometres aboard his off-roader named "Buffalo".
From Kiel, he will take the ferry to Lithuania and drive through Latvia to Moscow — where the team's first match is played.
Since the European Championship in 1996, he has made it a tradition to attend the German national team matches. In 2010 the idea was born to combine tournaments with travelling — Hollensteiner's two biggest passions. The trip to South Africa took a lot of preparation: before the trip started, he flew down twice to prepare for the tournament stages. In total, he was on the road for three months.
But the 58-year-old doesn't travel alone. He will be joined by friends throughout certain sections of his journey. His wife, who is also fond of travelling, will come along.
Hollensteiner has been identified as a prominent fan of the German national team. He was invited to various events and has met Brazilian footballer Giovanni Elber and former German striker Oliver Bierhoff. In addition, he met with a group of doctors from the Allgäu region in southern Germany, who operate on children living in the host country.
In 2014, he shipped his off-roader to Mexico and drove with his wife through Central and South America to the World Cup in Brazil.
He's not worried about Germany's chances in this year's World Cup. He believes that tournaments are a "matter of luck." Greece's unlikely win in the 2004 European Championship, as well as Portugal's win in the European title back in 2016, have been used as reasons to be optimistic. "If the group stages round goes well for Germany, then I have good hope," said the German.
And if Germany is sent home early? Hollensteiner then switches back into travel mode and detours back to his hometown of Bielefeld in northeast Germany.