FIFA Club World Cup's new format launching in 2025 with 32 teams
Comments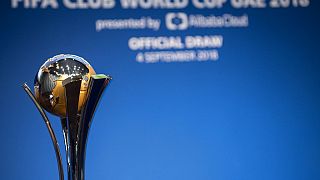 -
Copyright

Ennio Leanza/Keystone via AP
FIFA, the world football's governing body, has released new details about its planned overhaul of the Club World Cup
The new format will launch in July 2025 and expand the competition to 32 teams, divided in eight groups.
Football authorities said they allocated the slots "based on a set of objective metrics and criteria".
AFC (Asia): 4 teams
CAF (Africa): 4 teams
Concacaf (North and Central America): 4 teams
CONMEBOL (South America): 6 teams
UEFA (Europe): 12 teams
OFC (Oceania): 1 team
Host nation: 1 team
The US is a potential host for the new format, as a test event for the following year's World Cup of the nations.
On Tuesday, FIFA also announced it "unanimously" chose Saudi Arabia as tournament hosts for the 2023 Club World Cup, which will take place from 12 to 22 December under the current 7-team format.  
The 2022 edition ended last Saturday in Casablanca, Morocco, with Spain's Real Madrid lifting the trophy in the final against Saudi's Al-Hilal, thus extending Europe's domination in the competition to 10 years.
FIFA's reform plans however have not gone down well among other football associations.
"As the calendar is already overloaded, with longstanding domestic club competitions and ever-expanding international competitions, FIFA's decision creates the risk of fixture congestion, further player injuries and a distortion of competitive balance" said the World Leagues Forum, a global association of 40 professional football leagues.
FIFPRO, the Global Union for Professional Football Players, argued that FIFA's decision "could have serious consequences and aggravate pressure on the welfare and employment of players", adding that it was taken "unilaterally, without seriously consulting, let alone agreeing, with the players".