As it happened: Wednesday, June 13
Comments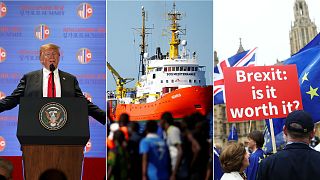 Good morning, Europe. Today we were watching:
World Cup 2026: US, Mexico and Canada jointly win the bid to host 2026 World Cup.
Italy-France dispute: Italy's foreign ministry on Wednesday summoned the French ambassador following sharp criticism by Paris of Rome's refusal to take in more than 600 migrants stranded aboard the rescue ship Aquarius in the Mediterranean.
Singapore aftermath: Following up on the historic summit where Trump shook hands with Kim, invited him to the White House, and suggested "provocative" US military exercises with South Korea would be suspended if North Korea commits to "complete denuclearisation".
The Aquarius: Spain's new government has stepped up and offered to take in a rescue ship that is drifting in the Mediterranean sea with 629 refugees.
Brexit vote: MPs vote on amendments to the EU Withdrawal Bill for a second day.
Follow how events unfolded here: