Kim Jong Un Impersonator 'doesn't respond to threats'
Comments
By Alex Morgan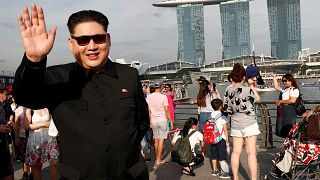 Kim Jong Un impersonator 'Howard X' has told Euronews' social media team that being warned to stay away from the summit forced him to attend.
"I don't respond well to threats and intimidation," he told the Cube team.
"Coming from a country with free speech, the government fears the people, not the other way around," he said.
According to Howard, officials at the airport detained him for "two hours" before warning him to avoid locations linked to the Trump Kim Summit.
He said he "wasn't planning" to go to the Shangri-la hotel, where Donald Trump is staying, or Sentosa where the leaders will meet. But "now that they've told me not to go, I have to go," he added.
Howard has been making quite a splash on social media, posing alongside Donald Trump impersonator Dennis Alan, holding an unofficial summit of their own on the sidelines.
But does he worry about the dangers of mimicking one of the most ruthless men in the world? "No," he said, "I don't feel unsafe."