Final preparations under way for historic summit
Comments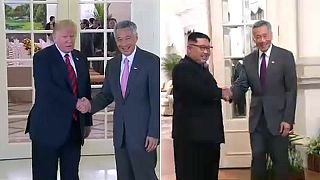 Final preparations are being made for the historic summit between US President Donald Trump and the North Korean leader Kim-Jong-un.
Delegations from both sides were working behind the scenes to smooth the process ahead of the meeting, with both leaders announcing they would leave immediately after the summit.
While Trump was optimistic about its prospects, U.S. Secretary of State Mike Pompeo injected a note of realism, urging caution.
"The ultimate objective we seek from diplomacy with North Korea has not changed,'' he said. ''The complete, verifiable and irreversible denuclearisation of the Korean peninsula is the only outcome that the United States will accept."
Trump arrived in Singapore on Sunday and held talks with Singapore's Prime Minister Lee Hsien Loong on Monday He was given a birthday cake, albeit three days early.
Meanwhile Kim – renowned as one of the world's most reclusive leaders – surprised onlookers by hitting the town.
He was cheered as he toured the city's waterfront and stopped at the lavish Marina Bay Sands hotel for a look out over the city from its rooftop garden and swimming pool.