Football for Friendship profile: Yonatan, Israel
Comments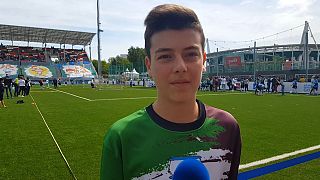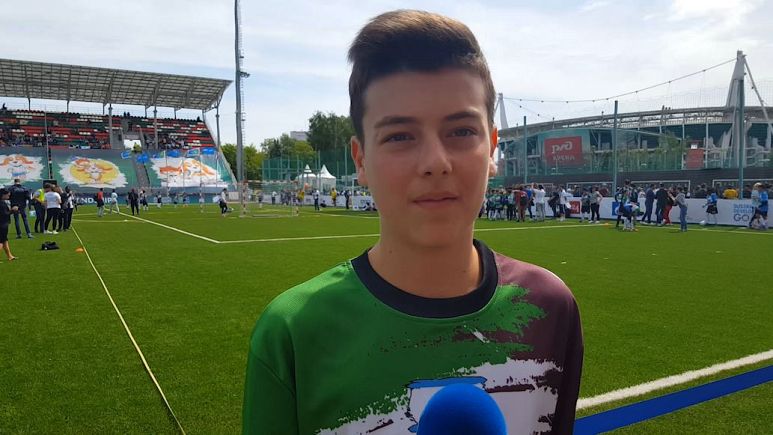 Gazprom's international children's social programme Football for Friendship gathers young players and journalists from around the world to participate in a range of events that aim to bring cultures together to promote key values. Euronews met some of the young talents at the 2018 edition in Moscow.
Yonatan, from Israel, is participating in the 2018 Football for Friendship programme as a Young Journalist. His family moved to Israel from Russia in the early 1990s, so he speaks Hebrew, Russian, English and is beginning to learn Arabic too. Yonatan has started his own YouTube channel, where he produces videos about his life, sports and trips, he shoots and edits all his own material. Although he is participating this year as a journalist he is also a football player too, where he plays for a local team.
Yonatan told the F4F team that he wants to tell people about Israel and spread the message of peace and equality, adding "there is no need to fight."
How is Moscow different from where you are from?
Russia is very different, Russia is very big. Yesterday I went to the centre of the city and it was so big, all the buildings are so big. It's awesome. I'm not used to this. I'm used to big buildings but not like Moscow's buildings.
Have you made any friends?
In my team, Western Gorillas, we have Luxembourg, Uzbekistan, Mongolia, Gibraltar. All the children in my team are very good. I love being with them.
What have you learnt?
I've learnt how to speak this language and I learnt how people live in other countries, not in Israel. It's very interesting.
What has been the best moment so far?
Today, when we got to go to this tournament. It's very interesting to see how the children play football. There was three days of training, games, tt was very fun. And today it's the day! Tomorrow I will go to the forum, I will say what I see and what I feel. I think it will be very good.
Are you looking forward to the World Cup?
We will go to the first match, Russia and Saudi Arabia. Of course I want Russia to win. Thanks to Football for Friendship for this match… I think Portugal will win (the World Cup) because in my family we love Portugal, Ronaldo, Real Madrid.
What's your message for your family and friends at home?
I will tell them it was very interesting and funny. That I met children from all over the world and this was very interesting to learn how people live in these countries. And of course I will tell about Moscow, the buildings —all these things— the metro.
Any last words?
I really think that Football for Friendship can change the world… because people from different countries —that don't know about each other— they play together, have fun. I think it's a very good idea.