Football for Friendship profile: Jonty, New Zealand
Comments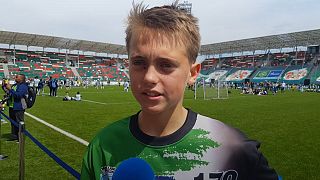 Gazprom's international children's social programme Football for Friendship gathers young players and journalists from around the world to participate in a range of events that aim to bring cultures together to promote key values. Euronews met some of the young talents at the 2018 edition in Moscow.
Jonty represents New Zealand in the 2018 edition of Football for Friendship as a footballer. His long-term goal is to become a professional footballer, although he revealed to Euronews that a career in maths is also on the cards. He has been playing as an attacker for four years with New Zealand's youth team and has played every game of all 9 seasons. Playing for the national team has also allowed him to travel to Australia for a competition where he was awarded "Most Important Player of the Team".
Jonty's passion for sport runs in the family—his grandfather played softball and rugby for the New Zealand team—so it's not surprising that his other hobbies include basketball, swimming, volleyball and cricket.
What's been the best moment of your trip?
My best moment has probably been meeting my team and all the other players and journalists from all over the world… I've made lots of friends, my roommate from Bermuda, his name's Amir, he's one of my best friends. I've also got friends from Ireland, the two Daniels.
What have you learnt?
I've learnt the 9 values of football. We were going over them at training… I think that friendship is the most important one of them all.
How can football help people?
Football is one of the biggest sports in the world. So many people play it. So if everyone just, we're all on the same planet. So if everyone just plays along, gets along with everyone, we'll make lots of friends.
How different is Moscow compared to your home?
It's summer over here and it's not that hot. We just saw a big pile of snow five minutes that way, we couldn't believe it, it was amazing!
What's been the biggest challenge?
The language, definitely the language. There's a guy on my team from Chad, we don't understand him so we have to get a translator… Some people are different, some people are the same but when we all gel as a team then it really works for us.
What message will you bring back to your friends and family?
I'll tell them about the games, the people I met, I'll show them my kit.
Who do you think will win the World Cup?
I think it will be Brazil, Argentina or Germany
Do you have a message to add?
Just.. play football!