Foreign office warns football fans of 'anti-British sentiment' in Russia
Comments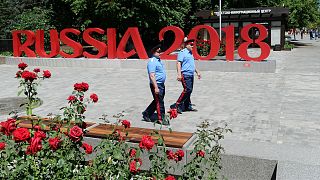 British fans attending the World Cup in Russia have been warned they may come up against "anti-British sentiment" by MPs and the country's Foreign Office.
"Due to heightened political tensions between the UK and Russia, you should be aware of the possibility of anti-British sentiment or harassment at this time," read the advice given to fans by the Foreign Office (FCO).
The foreign affairs select committee elaborated on this in a report, published Friday, saying "racist and/or homophobic intimidation and violence from hooligans" were also among the risks potentially facing fans.
The committee said it remained "concerned" about the safety of over 10,000 England fans travelling to Russia, particularly outside match days and in cities where England was not playing, despite measures put in place to safeguard supporters.
It cited the expulsion of 23 UK diplomats from Russia following the poisoning in Salisbury of Sergei Skripal, the Russian former double agent as one of the reasons for this.
Among those ejected were staff preparing for the World Cup, which may have "dented the thoroughness of FCO preparations", MPs said.
The committee said it was "particularly concerned" about the safe passage of LGBT+ football fans who face additional risks of attack and persecution as the Russian government has taken "little action to combat homophobia".
The FCO's "Be on the Ball" guidance for fans travelling to Russia for the World Cup warns: "Public attitudes towards LGBT+ people are less tolerant than in the UK."
It also highlighted risks for BAME supporters travelling to Russia.
Co-operation is in place between the UK and Russian police to help ensure the safety of British nationals, which includes visits by both police forces to the other country.
British police will also be in Russia for the tournament, according to the Foreign Office.
The British Embassy will have a presence on match days in all of the cities where England are playing matches.
In addition to the Foreign Office guidance, the UK's National Cyber Security Centre has issued advice for fans travelling to Russia on how best to secure their devices and key accounts.
The FCO tips say British nationals should follow the security and political situation closely and keep up to date with travel advice.
It advises them to "be good guests wherever they travel in the world and to do their research before they travel to understand local laws and customs, so they can have a safe and enjoyable trip".
More information about can be found in the office's Be on the Ball: 2018 FIFA World Cup guide.